Dog Movies for Your Next Family Movie Night
If your childhood was anything like mine, dog movies were a way to bring the family together. Whether you're a big-dog lover or Shit-Tzus are more your speed, there's a dog movie out there for everyone. Here are some of our recommendations for movies that the whole family can watch together.
Comedy Dog Movies
There's something about talking animals that is both funny, imaginative, and endearing. It's fun to imagine the kinds of things dogs and cats would say if they could, and movies help bring that to life.
Homeward Bound
Based on the 1963 movie and original novel The Incredible Journey, this adventurous film follows the adventures of three pets voiced by familiar voices such as Michael J. Fox as Chance, a fun-loving American Bulldog, Sally Field as Sassy the Himalayan cat who lives up to her name, and Michael Ameche as Shadow, the old, wise Golden Retriever. When their loving owners go on vacation and leave them with a kind friend, the animals misunderstand the nature of their owners' absence. After a few days, they assume their family must be in trouble, so they decide to escape and make the journey home across the beautiful, and sometimes treacherous Sierras. It's an unforgettable story of love, courage, and devotion that will have everyone feeling all the feels.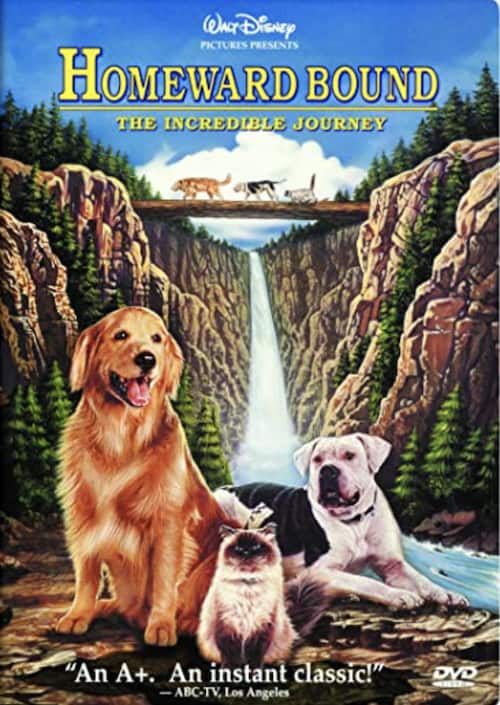 Homeward Bound II: Lost in San Francisco
Not many animal movies, or any kind of movies, make a sequel that rivals the first, but this is the exception in my book. Chance, Sassy, and Shadow are back, this time they're accidentally separated from their owners in the airport as they're traveling by airplane. This time, the trio must navigate their way back home through San Francisco–which brings a whole new set of challenges, villains, and friends. Kids will be laughing and parents will be appreciating the all-too-familiar dynamics between the pets. Fair warning, though, the infamous "blood-red van" may cause your children to have an ingrained distrust of any red van (or small box truck) that resembles the one in the movie. I know I did.
Turner and Hooch
Detective Scott Turner (Tom Hanks) is a no-nonsense police officer who wants to leave his small California town and work in the big city. When his friend Amos Reed is killed, Turner reluctantly becomes the owner of the man's dog. When he realizes that the dog may be able to help him solve the murder, Turner attempts to adjust to life with the big dog, resulting in much household destruction and utter disarray.
Beethoven
When a group of Saint Bernard puppies is dog-napped from a pet store, one escapes and sneaks into the Newton family's home. Despite the father's initial reservations, and some chaotic antics, Beethoven turns out to be an excellent addition to the family and helps the kids solve a lot of their problems. Trouble stirs, though, when an evil "veterinarian" tries to acquire Beethoven for nefarious activities, and the family must fight to save him.
Air Bud
Dogs playing sports? Come on, it doesn't get much cuter than that. Air Bud is a sports comedy based on the true story of "Buddy" the once-stray golden retriever who meets a 12-year-old Josh Framm, who then discovers Buddy's uncanny talent for shooting hoops. If you love this movie, you'll love all the sequels in which Air Bud takes on all different kinds of sports, including football, soccer, volleyball, and baseball.
Classic Animated Dog Movies
Oliver and Company
This animated musical is based on the Charles Dickens novel Oliver and follows the story of an orphaned kitten taken in by a gang of thieving dogs owned by the sketchy pickpocket named Fagin. While pulling a job on the streets of NYC, Oliver is found and adopted by a rich, but kind girl named Jenny. Trouble brews, though, when a loan shark threatens his new way of life. Oliver may be a kitten, but this movie still gets the "dog movie" badge of honor because of the sheer number of lovable dog characters.
Lady and the Tramp
Who hasn't tried the old "Spaghetti noodle" trick as a kid? Okay, I'll admit it, I didn't. But I did sit around wondering whether I'd ever find a boy to share a bowl of spaghetti together, and our lips meet at the center of a noodle. This is a classic scruffy-scoundrel-meets-sophisticated-lady-and-falls-in-love. While cocker spaniel Lady has always enjoyed the comfortable and cushy life, she ventures into a new perspective when she meets a stray dog who opens her eye's to the adventures the world has to offer.
101 Dalmatians
Whether you choose to go with the Disney animated film classic or the 1996 live-action film of the same name, you can't go wrong with this one. It'll make your whole family fall in love with dalmatians, and come together in pure detestation of the aptly-named "Cruella DeVil." I maintain my position that Glenn Close should have won an Oscar for the live-action version of this movie because she simply NAILS the role of Cruella. Also, look up the 1996 premiere where she showed up completely in costume and in character. Iconic.
The Fox and the Hound
Break out the tissues again. When a red fox cub loses his mother, he's taken in by a widow who cares for him and names him Tod. Her neighbor, a hunter, brings home a hound pup, Copper, who he intends to train to become a hunting dog. The hound and fox strike up an unlikely friendship, although complicated by their natural instincts and pressure from those around them. This movie asks important questions about friendship, including "what makes a good friend?" In the end, Tod and Copper learn that being yourself is ultimately the key to friendship.
Balto
This was one of my favorite stories as a child, about "the dog who saved Nome." It's the story of a mixed-breed wolf-dog who overcomes all odds and brings diphtheria medicine to a suffering and isolated Nome, Alaska, and finds his own identity along the way. This is a heart-warming hero's tale, a much-needed reminder in today's cultural climate that you don't have to look a certain way or be anything other than yourself to defy expectations and be a hero.
Benji (2018)
A 2018 re-boot of the 1974 film (now directed by the original director's son), Benji is a heartwarming film of bravery and loyalty. After finding Benji, a lovable stray from the streets, two kids rely on him to save the day when they're kidnapped. Re-boots aren't always better than their original, but this is the exception.
Beverly Hills Chihuahua
If you're looking for a light-hearted movie that the kiddos will love, this is one that won't disappoint. While dog movies can melt our hearts, this one is a little bit more of a light watch. Follow the adventures of Papi, a chihuahua who becomes lost and looks for help to find her way home. I'll be honest, this one didn't win any Oscars for good reason. It's mostly fluff, but sometimes you just need fluff.
Because of Winn-Dixie
This movie (based on the book by Kate DiCamillo) tells the story of a girl who moves to a new town in Florida with her preacher father. When she's missing her home and friends, she's happy to find companionship with a spitfire dog she calls Winn-Dixie, named for the store where she found the pup. With the help of Winn-Dixie, she begins to befriend unlikely characters in the town. If you have kids with a hard time fitting in, give this a try.
Honorable Mentions: TV Shows
They may not be dog movies, but there are some great TV shows out there with canine stars worth mentioning.
Wishbone
This late-90s gem made for PBS stars a Jack Russell terrier with a love for classic literature. PBS showed kids classic tales like The Legend of Sleepy Hollow and Ivanhoe through a wise-cracking dog named Wishbone. The Jack Russell imagines himself in the plots of countless classic books and finds ways to connect the stories to the real-life problems of his owners. If you want your kids to appreciate the classics, and maybe even become a literature-lover themselves, I would absolutely recommend Wishbone. It helps set the stage for important academic skills like understanding and applying themes from literature. As a side note, there's nothing that gives me happier than seeing a Jack Russell terrier in full Shakespearian garb playing "Romeo." There are only 50 episodes, so it can easily turn into a binge-watch.
Clifford the Big Red Dog
This is Another PBS classic. It tells the story of Clifford, a red dog who baffled everyone when he grew into a virtual giant. He has to adapt to life in the suburbs with his owner Emily Elizabeth. Clifford often has to stand up for what he knows is right, despite pressure from his friends. He also learns the value of friendship, loyalty, and community.
Dogs With Jobs
Many dogs are loyal, high-energy, and bred to loyally serve their owners. Yet another reason why dogs truly are heroes. From police dogs and service dogs, to search and rescue dogs, watch this Canadian documentary television series about working K-9's and show dogs that will fascinate and inspire, and may prompt you to ask your dog what exactly they're doing with their life since they nap for 16 hours/day. My dog and I had a very serious discussion along those lines.
Dog Movies for Adults (That Are Still Kid-Friendly)
Hachi: A Dog's Tale
Based on the true story of Hachiko, a dog whose loyalty goes unmatched. The true story is heartbreaking. Hachiko is an Akita whose owner dies, but Hachiko continues to go to the train station every day for 9 years–the same place where he used to meet his owner after work. This film starring Richard Gere will melt your heart. For a more true-to-life depiction of Hachi, check out the 1987 film Hachi-ko.
Old Yeller
This old-time classic is a bit of a tear-jerker, so grab the tissues. It's the story about a boy and his dog, affectionately named "OIld Yeller." It's an exemplary coming-of-age tale that takes you on an emotional journey through smart pacing and a deep understanding of the bond between humans and their pets. It's actually become a cultural classic, as you'll be hard-pressed to find an adult who's never sobbed over this one.
A Dog's Purpose
Dennis Quaid stars in this emotional film about a dog who is re-born over and over again to all different owners, and eventually comes back to his first owner and hopes to rekindle their companionship. Grab the tissues, and tub of ice cream, and get ready to snuggle your dog tighter than you ever have before. There are some situations and themes that may not be appropriate for young children, though, including depictions of alcoholism and abuse.
Dog Movies for the Adults
Best in Show
Many of my family's favorite movies star the "Christopher Guest crowd" as they like to call them. This group of actors and friends include Eugene Levy and Catherine O'Hara (who you may recognize as Johnny and Moira Rose from Schitt's Creek), Fred Willard, Parker Posey, John Michael Huggins, and a slew of other comedy geniuses. This is one of their earlier mockumentaries in which the viewer gets a behind-the-scenes look into the competitive world of dog shows and ruthless dog owners. This one definitely isn't as kid-friendly with some adult themes, and it's rated PG-13. So put the kids to bed, grab a glass of wine, and be prepared to laugh until your sides hurt.
Dog Days
This rom-com is a gentle affirmation of humanity's bond with their furry friends. Life and fate interconnect five different stories as well as their characters with their respective canine pets. According to Common Sense Media, you may want to skip this one if you're watching with the younger kids under 12, as there is some strong language and a plot point involving a pot-laced brownie.
Marley and Me
This is the movie you go to if you need a good cry– something we all need from time to time. This movie follows the lives of newlyweds the Grogans as they start their lives together and begin their family with the addition of a yellow lab puppy named Marley. He turns out to be much more of a handful than they'd bargained for. He has a knack for getting into trouble. But, looking back, the family realizes he was the glue that held the family together, and really was a good dog. There are some mild sexual situations between the husband and wife, though, so keep that in mind if you have kids under 13.
We Love Our Canine Companions–and Dog Movies, Too.
People everywhere love watching movies that remind us of our favorite furry companions, and we're no exception. Dogs aren't just adorable, they're loyal, intelligent, and just generally bright, shining lights in our lives. What are some of your favorite dog movies? Ask your FamilyApp group chat which dog movie they want to watch tonight, pop some popcorn, and have a K-9 movie night to remember!