Food Dehydrator: What Are the Best Foods to Dehydrate?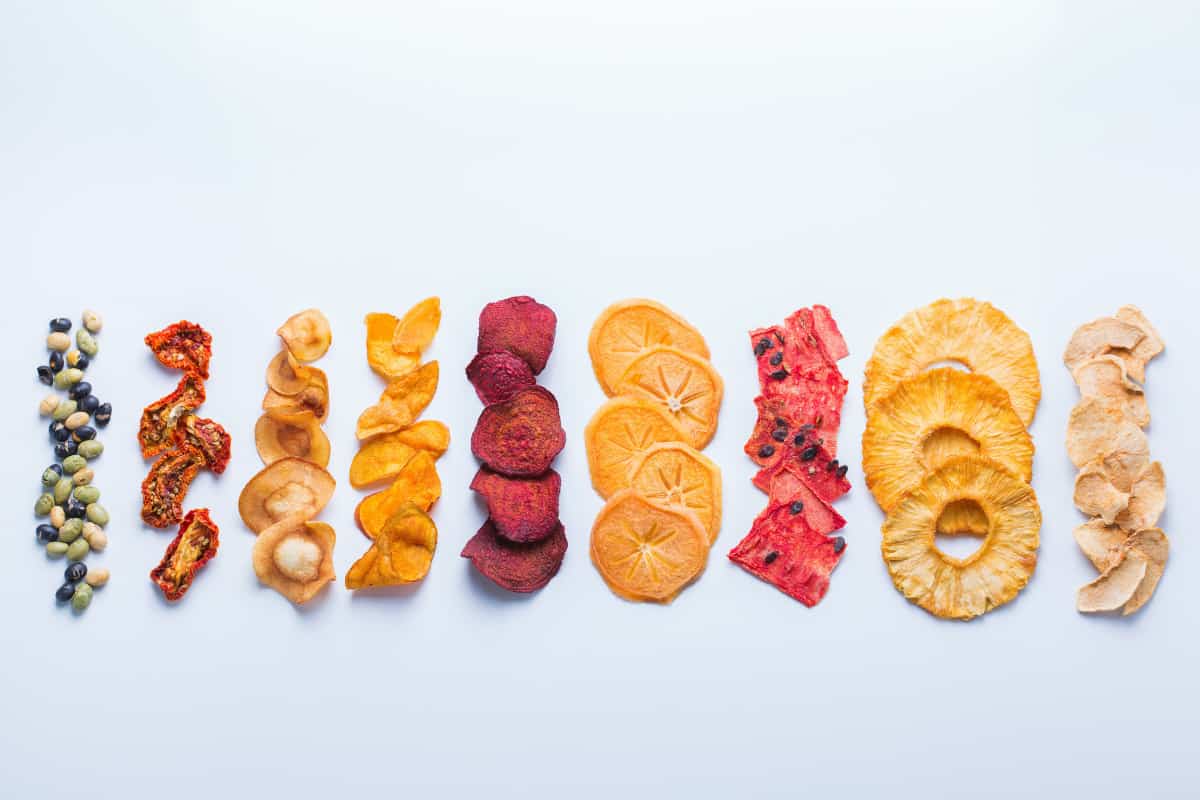 Do you ever struggle to find healthy snacks your kids will love? Try a food dehydrator for nutritious recipes that will keep your family well-fed even on the go!
A Food Dehydrator Is Perfect for Making Snacks
Many of us have been spending a lot more time in the kitchen lately. And, as a parent, it can be hard to come up with snacks and treats that are tasty and nutritious. For those who want to try something new, a food dehydrator can be a great kitchen tool. It's easy to make healthy treats so your kids can get their vitamins while indulging in something sweet! And it's as easy as just drying fruit in the machine. Share your healthy snack ideas on your favorite family app.
How Do You Dehydrate Food With a Food Dehydrator?
For many years, dehydrating food has been an easy way to make your food last longer. The simple practice of dehydration removes moisture from food, so it's easier to take it with you whether you're hiking, camping, or just coming home from school.
The best way to dehydrate foods at home is to purchase a food dehydrator. And with a little prep time and a few simple instructions, you'll be on your way to making some delicious snacks! Whether you want to make fruit leather or beef jerky, your tasty snacks will have a long-term life. Share your favorite food dehydrator recipes on FamilyApp!
What Are the Best Foods to Dehydrate With a Dehydrator?
Fruit – To dehydrate fruit, start with fruit that's clean, unblemished, and ripe. Slice it into similar-sized shapes to dehydrate at the same rate, making sure to remove any seeds. Spray any fruit that might turn brown, like apples or peaches, with lemon or lime juice to preserve the color.
Veggies – Like fruit, veggies should be clean and cut up into uniform slices for the best food dehydrator benefits. If you're dehydrating green vegetables, blanch them and then drop them into ice water before drying. You can then add any spices or seasonings you like to maximize their flavor.
Meat – Meat is a popular food to dehydrate, but the process that goes into dehydrating meat is a bit more complicated. You need to remove any contaminants before drying, which means you must cook the meat before dehydration. Once it's cooked, you can cut it into pieces and spice it up!
Easy Food Dehydrator Recipes
You and your family may just find a new favorite treat with your dehydrator, and it's as easy as 1-2-3. Check your dehydrator manual for instructions on time and temperature for the different foods, and share your best food dehydrator recipes on your favorite family app!
Cheesy Kale Chips
Another favorite snack in our house! Here's our recipe for this delicious snack that's packed with phytonutrients!
Cheesy Kale Chips
A healthy and light snack that everyone will love!
Ingredients
1

large bunch

kale

2-3

tsp

extra virgin olive oil

1

tsp

salt

2

tbsp

nutritional yeast

1

dash

cayenne pepper
Instructions
Cheesy Kale Chips
To prepare the kale, strip the leaves away from the leaf stalks and tough midribs ( those are not tasty). Wash them, then Wash the kale leaves and dry them well.

Tear the washed and dried leaves into sections just slightly larger than chip-sized pieces (remember–as they dry, they will shrink slightly).

Toss the kale in a large bowl with the olive oil and salt. Massage the leaves well with your hands, until everything is evenly coated.

Add nutritional yeast and cayenne pepper and toss.

Spread the leaves on the dehydrator trays into single layers. Don't crowd the leaves and try not to let them overlap too much.

Dry the kale at 145 degrees F for 1 hour. Reduce the heat to 115 degrees F and dry for another 3 to 4 hours until crispy.
Notes
If your kale chips lose their crunch in storage, re-crisp them in a low (200 F) oven for 10 minutes, or in the dehydrator at 110 F for an hour.
Nutrition
Calories:
48
kcal
Carbohydrates:
4
g
Protein:
3
g
Fat:
2
g
Saturated Fat:
1
g
Polyunsaturated Fat:
1
g
Monounsaturated Fat:
1
g
Sodium:
594
mg
Potassium:
235
mg
Fiber:
1
g
Sugar:
1
g
Vitamin A:
3257
IU
Vitamin C:
39
mg
Calcium:
49
mg
Iron:
1
mg
Banana Chips
Simply cut bananas into pieces and place them in your dehydrator. Add a sprinkle of salt or cinnamon to amp up this easy treat!
Fruit Leather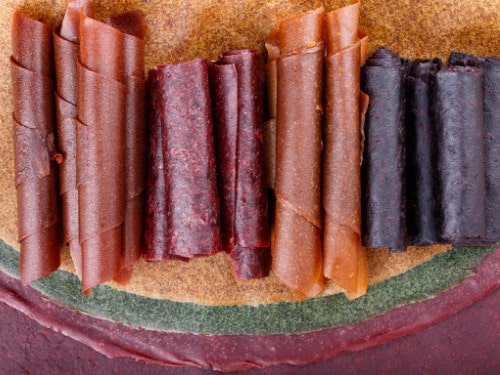 Start by peeling and cubing apples, and adding them to 1 cup of water, cinnamon, and ½ a squeezed lemon. Cook in a saucepan over low heat for 15 minutes, then puree and place on a baking sheet in your food dehydrator.  
Strawberry Chips
These are my kids' favorites! Just slice strawberries and place them evenly on the food dehydrator trays. Cook at 135 degrees Fahrenheit for about 8 hours, store and enjoy! These are delicious, but make sure you wash your hands after eating them since they can get a little messy! The same goes for other types of dried berries, like blueberries or raspberries. Store in mason jars to keep them fresh.
Sweet Potato Chips
This snack offers a healthy alternative to your favorite kind of chip. Using a mandolin slicer, cut a sweet potato into thin pieces. Brush with oil and sprinkle with sea salt or your favorite herb for one of the best healthy food dehydrator recipes.
Beef Jerky
Slice a flank steak into 1/8-inch-thick strips. Place your pieces into a bag with a marinade of soy sauce, Worcestershire sauce, garlic powder, salt, and pepper. Leave it to marinate for at least 30 minutes and up to 24 hours. Once it's ready, transfer it to the dehydrator for an easy camping treat!
Why We Love the Food Dehydrator
Whether you like sweet or savory foods, you might want to invest in a good food dehydrator. It will make it a lot easier to make nutritious dried foods for your family, and your kids might want to help make the treats with you. Instead of granola bars and gummies, your children will love treats like banana chips and fruit leather.
Do you have any other easy food dehydrator recipes? Share them with other cooks in our comments. All it takes is a little time in the kitchen to make a healthy treat!